If you have a regular iPod such as a Classic, Nano, or Shuffle, please go to the Summary page for it in iTunes and check the box to "Enable Disk Use" and click Apply. That setting should prevent those errors from occurring. The Summary tab is
the first screen that comes up when you select
your iPod in iTunes.
Here's a screenshot of those settings: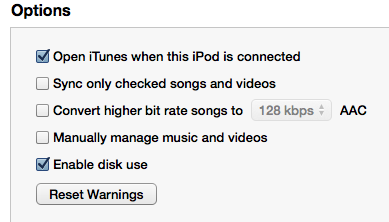 If you receive the error when transferring from an iPhone, iPad, or iPod Touch, please check on your device and make sure you are able to play the track or album that the error mentions. If the track is grayed out on your device and can't be played, that means the audio file to play the track is missing from your device.
Feel free to contact our support team if you need additional assistance by clicking on Email Us on the right side of this page. We provide technical support 7 days a week.