If iExplorer is still showing the screen to connect your iPhone, Pad or iPod when your device is definitely plugged in with its USB cable, open iTunes and make sure it is appearing as connected in iTunes first. An active iTunes connection is required since iExplorer uses the iTunes interface to access the data on your iPhone or iPad.

​If your device is showing as connected in iTunes without any errors but it still can't be seen in iExplorer, you should try completely closing or quitting iExplorer, then reopen it, and see if that helps, or try unplugging & reconnecting your iPhone or iPad and check again.
If you are using a regular iPod such as a Classic, Nano, or Shuffle, and are using a Mac, please download and install this version of iExplorer: Regular iPods download for Mac.

If you've never used your iPhone or iPad with this Windows PC or Mac, make sure that you've chosen to "Trust this computer" on its touchscreen after plugging it in to your computer. iTunes will display the dialogue below when an iPhone or iPad its connected for the first time, and once you choose to Continue, your iPhone or iPad screen will ask whether to 'Trust' or 'Don't Trust' the computer. You should tap on 'Trust' in order for it to connect in iTunes and iExplorer: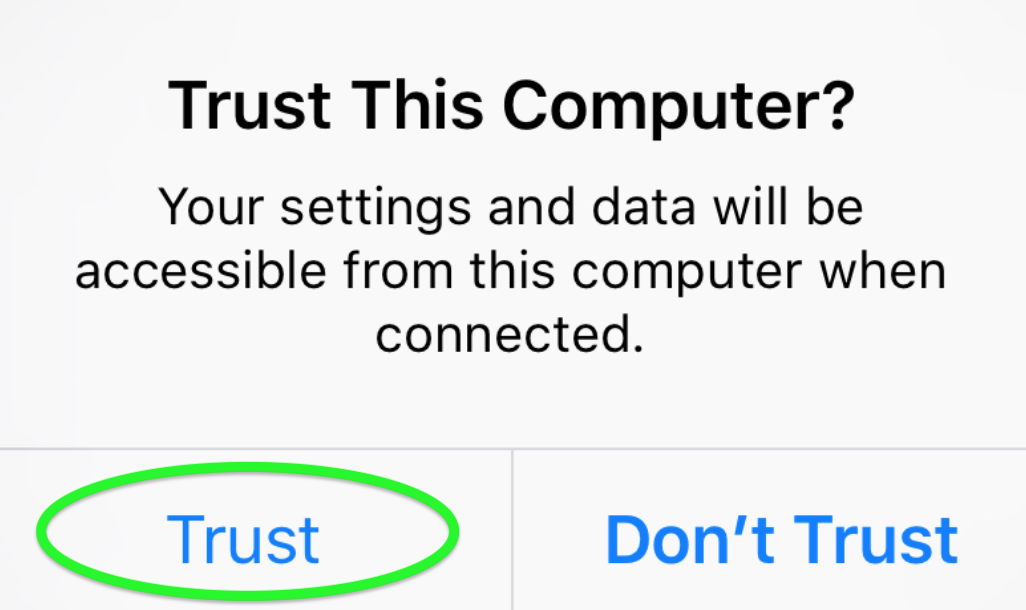 If you are using a Windows PC and are receiving an error about "iPhone listener process", please click HERE for how to fix it.
If you installed iTunes from the Windows Store on your PC and the steps above didn't help, try downloading iTunes directly from Apple's website at the link below and reinstall it. The version of iTunes in the Windows Store seems to be causing connection issues. You can tell by opening iTunes and click on Help menu, and if you don't see an option for Check for Updates, it means you did download iTunes from the Windows Store, and you should download Apple's site instead:
https://www.apple.com/itunes/download/win64
If you did see Check for Updates in the Help menu of iTunes, please click it and install any available updates from Apple and then check for your iPhone or iPad in both iTunes and iExplorer after the update is finished.

If you have an iPhone, iPad, or iPod Touch, and it's definitely appearing in iTunes or Mac's Finder but not in iExplorer, try these steps:

O

pen iTunes.

Select your iPhone or iPad to bring up its Summary tab.

If your device is configured to backup to iCloud, change the backup location to "This Computer".

Check the box to Encrypt Backup below "This Computer" and choose a password you can remember which will create a new iTunes backup.

Once the backup is finished, click on Apply in the lower right of iTunes.

Completely quit & reopen iExplorer and see if your iPhone or iPad now appears in iExplorer along with the new backup you just made.
Note: If you have macOS 10.15 Catalina or macOS 11 Big Sur, you'll do these steps in Finder instead of iTunes, and it's called the General tab.
If none of the above helps, and your iPhone or iPad is definitely appearing in iTunes but not iExplorer, try tapping Settings > General > Reset > Reset Location & Privacy. Then, enter your iOS passcode to proceed, and once reset, try unplugging and reconnecting your iPhone, and you should be prompted to Allow computer access in iTunes and have to tap Trust on your iPhone's screen. Then, check if your iPhone is appearing in iExplorer after you've verified it's appearing in iTunes.

Regular iPod steps
If your iPod Classic, iPod Nano, iPod Video, or iPod Shuffle is appearing in iTunes but not iExplorer, you should open iTunes, select your iPod, and check the box to "Enable Disk Use" on its Summary tab (if it's not already checked) and click on Apply to save the change.

If you use a Mac, please try downloading and installing iExplorer 4.2.0 to see if it allows your regular iPod to connect.

IF YOUR DEVICE ALSO ISN'T APPEARING IN ITUNES
If you can't even get your iPhone, iPad, or iPod to show up in iTunes, you'll need to figure that out first since an iDevice is supposed to automatically connect and appear in iTunes (when connected via USB) as long as your computer's OS meets the minimum system requirements and you are are using a compatible version of iTunes. If your computer OS and iTunes version definitely meet the requirements, first try restarting of your computer, and if that doesn't help, here is an AppleCare article that has some steps to help get any iPhone, iPad, or iPod to connect in iTunes for Mac and Windows:
https://support.apple.com/en-us/HT204095

If you have iOS 12, make sure you have a new setting to allow USB connections turned ON. Here's how:
Tap Settings Touch ID & Passcode (or Face ID & Passcode).

Enter your iOS passcode.

Scroll down to

USB

Accessories

and if it's OFF, tap the switch to ON (green).
Check iExplorer again after unplugging and reconnecting the

USB

cable and making sure your iPhone or iPad is unlocked.

Once you get your iPhone, iPad, or iPod to connect successfully in iTunes, you should then see it appearing in iExplorer too. If not, you should just need to close and reopen iExplorer.

Apple's Minimum Computer OS Requirements for recent iOS Versions
iOS 15:
PC: Windows 7 or later
Mac: 10.11 or later
iOS 14:
PC: Windows 7 or later
Mac: 10.11 or later
iOS 13:
PC: Windows 7 or later
Mac: 10.11 or later
iOS 12:
PC: Windows 7 or later
Mac: 10.11 or later

iOS 11:
PC: Windows 7 or later
Mac: 10.10 or later

iOS 10:
PC: Windows 7 or later
Mac: 10.9.5 or later

iOS 9:
PC: Windows XP or later
Mac: 10.7 or later

iOS 8:
PC: Windows XP or later
Mac: 10.6.8 or later

Just make sure you are using the most current version of iTunes that is available for your computer's OS. On a PC, click File menu Check for Updates. On a PC, click on iTunes menu Check for Updates.

iExplorer does not yet support Wi-Fi connections, so you must connect your iPhone, iPad, and iPod with its USB cable, but we plan to add Wi-Fi connection support at some point in the near future.

Additional Support Information:
Need more assistance? Here are some related support articles: